A Captivating Journey Through Phuket's Vibrant Weekend Markets
When you think of Phuket, pristine beaches and azure waters might be the first things that come to mind. However, there's so much more to this tropical paradise than just its natural beauty. One of the most immersive ways to experience the essence of Thai culture and flavors is by exploring Phuket's vibrant weekend markets. Join us on a captivating journey through Phuket's market scene and other exciting attractions that are sure to make your vacation unforgettable.
Phuket Sunday Street Market
Our journey begins at the Phuket Sunday Street Market, a haven of traditional crafts and delectable street food. Held every Sunday evening in the heart of Phuket Town, this weekend market is a celebration of local culture. As you stroll through the bustling lanes, you'll be surrounded by colorful stalls offering a plethora of goods - from handcrafted souvenirs and jewelry to intricate textiles and art pieces. The air is filled with the aroma of sizzling street food, tempting you to indulge in authentic Thai flavors. From pad Thai to mango sticky rice, the culinary offerings here are a true reflection of the island's gastronomic heritage.
Naka Weekend Night Market
As the sun sets over the Andaman Sea, our journey takes us to the Naka Weekend Night Market in Phuket, a place where shopping meets entertainment. Open on weekends, this market is a blend of vibrant stalls and live performances. Here, you can shop for trendy clothing, accessories, and electronics while being entertained by local artists showcasing their talents on stage. It's a lively atmosphere that perfectly encapsulates Phuket's dynamic spirit.
Malin Plaza Patong
Phuket seamlessly blends modernity with tradition, and nowhere is this more evident than at Malin Plaza Patong. This Phuket weekend market offers a fusion of shopping and dining experiences. From fashion finds to handicrafts, you'll discover a diverse range of products. And when you're ready to satisfy your taste buds, the food court presents an array of local and international cuisines. It's the perfect spot to witness the harmonious coexistence of contemporary trends and timeless culture.
Kata Night Market
Food lovers, rejoice! Our next destination, Kata Night Market, is a paradise for gastronomes. As dusk falls, this market comes to life with an array of food stalls offering a tantalizing selection of dishes. Seafood takes center stage here, with a variety of fresh catches prepared to perfection. From grilled prawns to succulent crab, every bite is a journey into the heart of Southern Thailand's culinary artistry.
Karon Temple Market
Phuket's weekend markets aren't just about shopping and dining; they're also windows into the island's spirituality and culture. The Karon Temple Market exemplifies this convergence. Set against the backdrop of the Karon Temple, this market offers a serene and mystical atmosphere. Traditional Thai crafts, amulets, and religious artifacts are on display, giving visitors a chance to immerse themselves in the spiritual aspect of Thai life.
Andamanda Water Park: Elevate the Excitement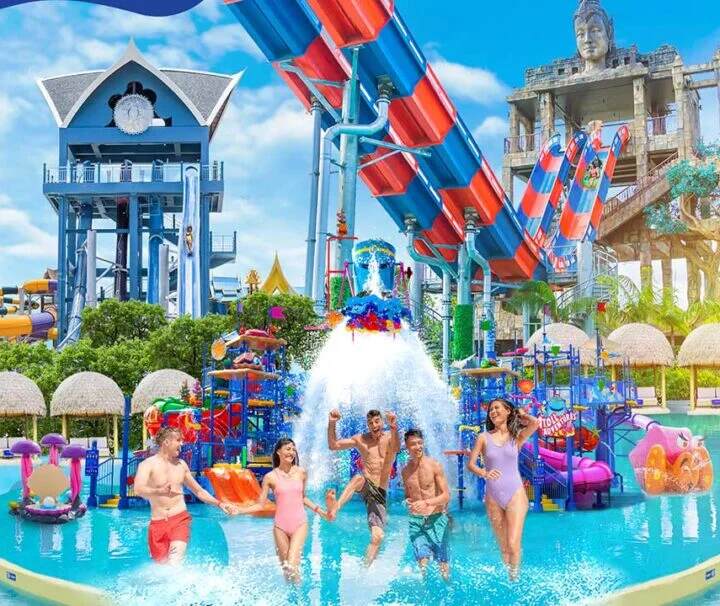 Looking for a change of pace after all that shopping and beach-hopping? How about diving into something completely different? Welcome to Andamanda Water Park – Phuket's latest and greatest aquapark adventure destination. Our park is the ultimate blend of excitement and relaxation, nestled within lush green surroundings. From heart-racing rides to serene pools, we've got it all. Seeking an adrenaline rush or a laid-back day by the water? At our Phuket aquapark, we've got something for everyone. Embark on a journey of discovery, unveiling hidden treasures from the depths of the Andaman Sea. Imagine a vast water kingdom spanning 100,000 square meters – a playground that promises endless fun. Dive in, splash around, and immerse yourself in the captivating world of Thai Mythology at Andamanda Phuket. As a Thai heritage-themed waterpark, we're all about embracing the rich local culture while delivering a splashing good time.
Bazaar by Andamanda
But the excitement doesn't end with water slides and wave pools. Andamanda Water Park goes beyond the thrill factor with our commitment to social responsibility. Explore a different shopping experience to Phuket's weekend markets - our park's retail arm, Bazaar by Andamanda. By employing over 400 locals, we contribute to sustainable shopping, which empowers the community. When you shop here, you're not just taking home souvenirs; you're also supporting a meaningful cause.
Phuket: Where Culture and Excitement Unite
As our captivating journey through Phuket's vibrant weekend markets and attractions comes to an end, one thing becomes clear: Phuket is a destination that promises an integrated and diverse experience. From the rich tapestry of traditional markets to the adrenaline-pumping adventures at Andamanda Water Park, the island captures the essence of Thai culture and excitement. Come for the fun at Andamanda, stay for the culture. Your journey of discovery awaits!
Discover the soul of Phuket through its weekend markets. Explore a world of crafts, flavors, and entertainment that brings the island's culture to life.