Get Ready
Park Details 
Voyage to the Andaman's Spectacular Treasures
When legend meets fantasy, inspried by Thai mythology of pirates legends and tales of hidden treasure. The largest leisure and entertainment destination in Phuket.
Designed with Sino-Portuguese and Thai architecture, blending famous Andaman landscapes with iconic Thai structures in the natural expression of uniqueness found in limestone cliffs, Koh Tapu, and the Andaman bay.
Impressive destination and perfect experience for everyone. A combination of "an authentic Thailand"  design with iconic elements which fills visitors for all ages with happiness and complete relaxation throughout their visit. An unforgettable journey with perfect experience  for everyone.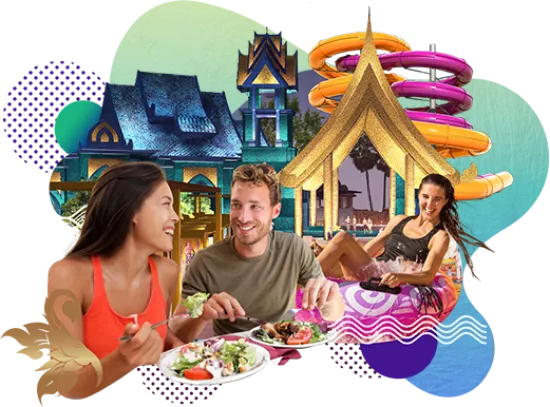 Opening Hours 
10.00 - 18.00 for Park Zone
10.00 - 19.00 for Emerald Forest zone
Pricing & Package 
Adventure Explorer (122 cm and above)  
1,500 THB (Adult Ticket)        
Mini Explorer (91 - 121 cm)     
1,000 THB (Child Ticket)   
Senior explorer (Age > 60 years & up)       
1,000 THB (Senior Ticket) 
Get Packages
How to Get Here 
address-icon 333/3 Moo 1, Tambon Kathu, Amphur Kathu, Phuket 83120
phone-icon 076 646 777
via Flight
The flight time from Bangkok to Phuket is 1 hour and 25 minutes. There are different options for getting to ANDAMANDA, including taxi and minibus.
via Car
Phuket is about 867 kilometers (539 miles) from Bangkok, with a travelling time of approximately 10 hours.
via Bus
From Bangkok, take a bus from Southern Route Terminal Station or "Sai Tai."
The VIP bus to Phuket takes approximately 10-12 Hours. The recently built
Phuket bus station is 4 kilometers from Phuket's downtown.
There are various transfer options to ANDAMANDA including Tuk-Tuk, metered taxi, and motorcycle taxi.
Estimated Time
35 minutes from Phuket Airport
15 minutes from Phuket Old Town
20 minutes from Patong Beach
20 minutes from Rawai Beach
20 minutes from Chalong Pier
30 minutes from Kamala Beach
Get Direction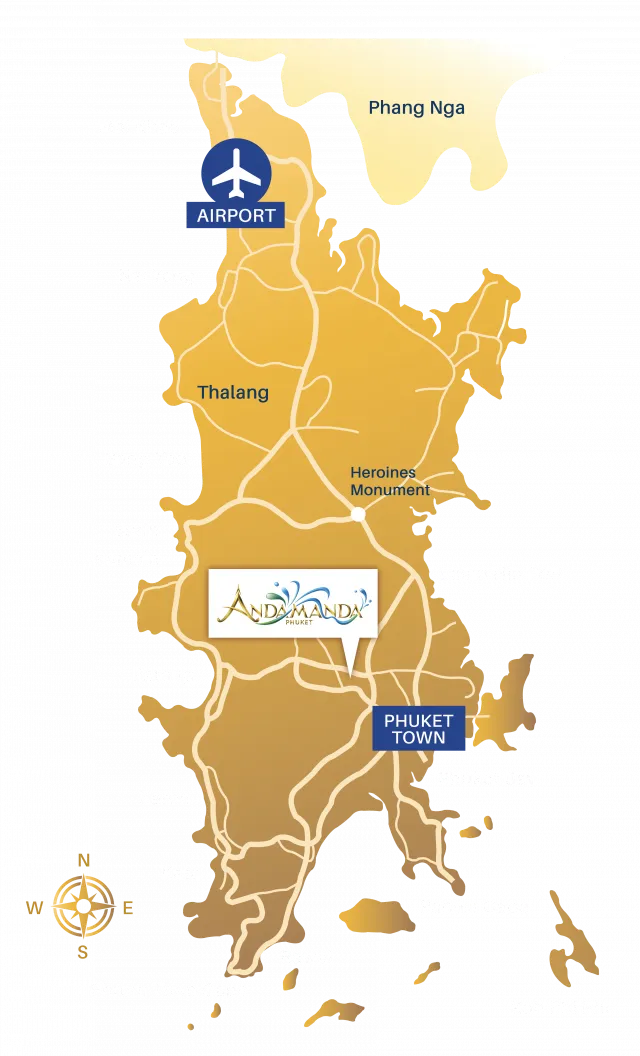 Do & Don't 
Please read safety signs and follow the directions of staff at all times
Safety Policy 
Water park safety and your safety is of paramount importance amidst having fun at Andamanda Phuket! 
With a wide variety of exciting rides to choose from, one may be tempted to run from one ride to another. However please refrain from doing so to prevent any potential injury. Every ride has different restrictions and safety requirements. Remember to read the signs before plunging in.
Read more
How to use the Application 
The Andamanda Phuket App offers you the possibility to enjoy all the benefits of our loyalty program in an easy way, through your smartphone. Use our Andamanda App to claim Treasure Hunt Game rewards and get notifications for special events within the Waterpark.
Know more
Smart Wristband and App
The latest technology that can make your life in water park easier and more enjoyable. 
RFID, The latest technology that makes visitors' time in water park much easier. It can be a purse, without carrying cash, suitable for all family members. RFID helps keeping every single exciting moment and let you share them in real time.
Scanning at Turnstile
RFID wristband to get in and out of the park by scanning at turnstile.
Scan to Rent and User Locker
Top-up Money
Top up money on the RFID wristband to buy food, beverages and items in the park
Activate at Photo Booth
Scan at the RFID stand point to activate photo taking at attractions or receive the photo at the DEI booth.
Application Connect
Connect the wristband with your mobile phone
FAQ 
Due to COVID-19, some important information has changed - please view the latest FAQs
Please make sure that you have reviewed any advisories or restrictions that may be in place for international travelers. By entering Andamanda Phuket, you are confirming that you and all persons in your party:
are not experiencing any of the following symptoms of COVID-19 identified including:
Fever or chills

Cough

Shortness of breath or difficulty breathing

Fatigue

Muscle or body aches

Headache

New loss of taste or smell

Sore throat

Congestion or runny nose

Nausea or vomiting

Diarrhea

do not need to quarantine due to close contact with someone with confirmed or suspected COVID-19

are not under any self-quarantine orders
Guests who cannot confirm all of the above criteria must not enter Andamanda Phuket. If at any point during their visit a Guest does not meet all of the above criteria, they and their traveling party will be required to isolate and may be relocated or asked to leave the property.
By entering Andamanda Phuket, you acknowledge that you understand and will abide by the above health-and-safety requirements.
Firearms, ammunition or weapons in Andamanda Phuket
Guests are not permitted to have firearms, ammunition, knives or weapons of any kind at or in Andamanda Phuket, including in general public areas within our area.
First Aid locations in Andamanda Phuket
If you begin to feel ill or find that you require medical assistance, please visit one of our conveniently located First Aid centers or notify a singular
A singular is available during normal park operating hours to offer some medications, bandages and other quick remedies so that you can begin enjoying your vacation again.
First Aid centers can also store medications that require refrigeration.
For your safety, special containers can be provided for disposal of hypodermic needles.