Your Complete Guide to Phuket's Top 10 Tourist Attractions
Phuket Adventures: Exploring the Top 10 Tourist Attractions
Welcome to the enchanting island of Phuket, where azure waters kiss pristine shores, lush landscapes invite exploration, and a vibrant culture awaits your embrace. If you're seeking a vacation that combines natural beauty, cultural immersion, and a touch of adventure, Phuket is your ideal destination. Let's embark on a captivating journey through some of the main places to visit and the activities Phuket has to offer.
Phuket Escapades: Navigating the Best Tourist Attractions
1. Andamanda Phuket Water Park: Splash into Joy
One of the top attractions is Phuket's newest water park – Andamanda Phuket Water Park. With thrilling slides, lazy rivers, and aquatic fun for all ages, you'll create cherished memories under the warmth of the Thai sun. Covering 100,000 sq.m. near Phuket Town, it boasts 25 attractions, including impressive waterslides, a vast wave pool, Southeast Asia's longest lazy river, Rolling Ripple, and dueling Master Blaster Angel's Slides.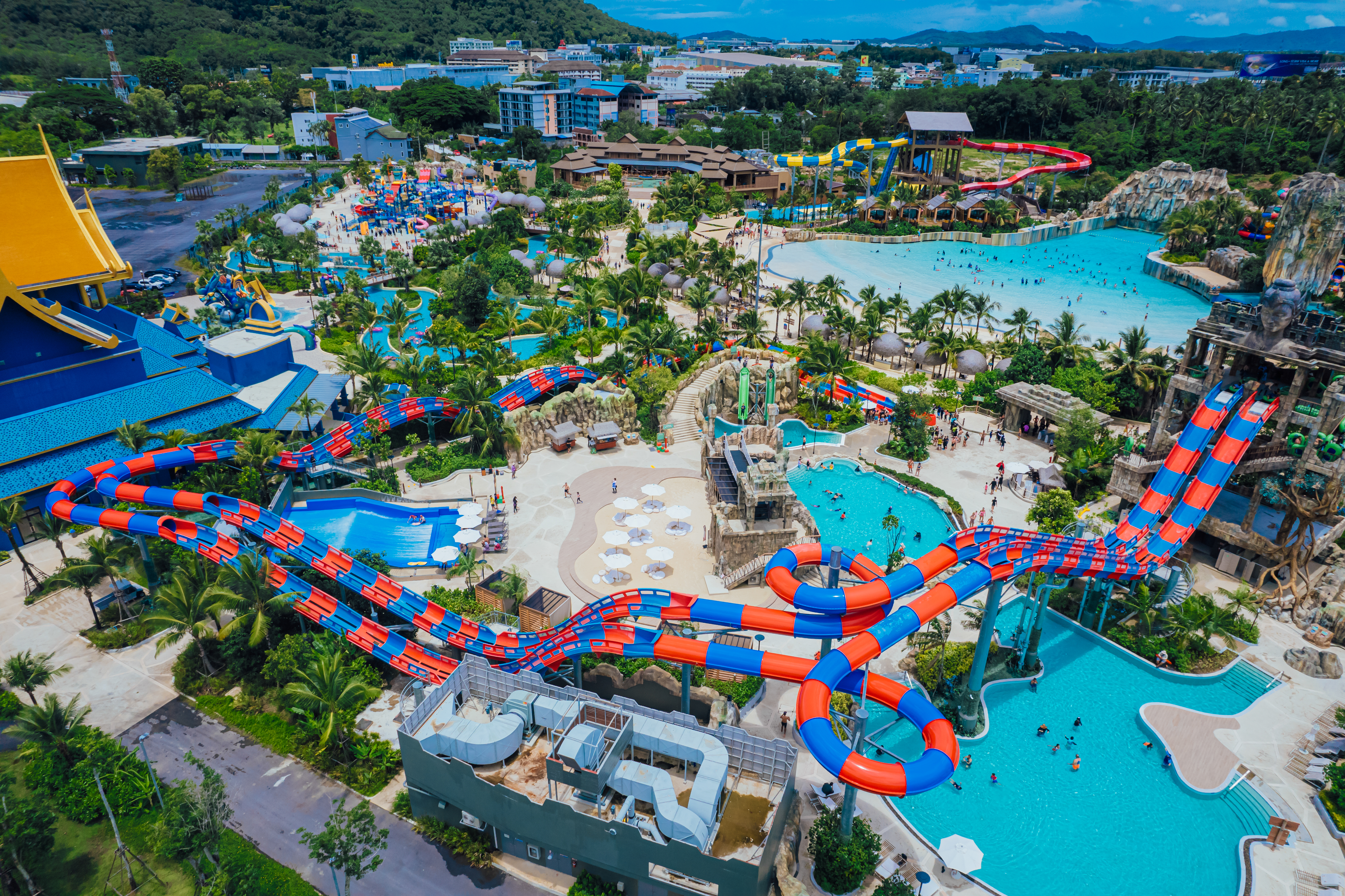 Experience exhilarating slides like Rock 'N Raft, Moken's Boat twists, and Sliding Rocks' corkscrews. Feel the rush on Eagle Flyer, Dragon's Drop, and Garuda Soars. Little ones will adore Atoll Adventures' sea-themed wonderland with kids' slides and a water play zone. Relax at Sand Bar's unique swim-up bar, or unwind at Emerald Pool and Sand Beach.
Enhance your stay with private cabanas and exclusive Water Villas offering air-conditioned rooms and loungers. Immerse yourself in Andamanda Phuket's attractions with family and friends for an unforgettable aquatic adventure.
2. Local Beach Hopping: Where Every Cove is a Treasure
Phuket's main attractions have always been its numerous, beautiful beach spots, each with its unique charm. Whether you're seeking relaxation or adventure, our recommendations include Kata Beach, Patong Beach, Bangtao Beach, and Freedom Beach, boasting something for everyone. Sink your toes into powdery sand, swim in crystal-clear waters, or partake in thrilling water sports – every beach offers a different slice of paradise.
3. Phuket Old Town: Where History and Charm Merge
Indulge in a delightful blend of cafe hopping and architectural exploration in Phuket Old Town – our recommendation for one of the best places to see in Phuket. Considered a classic must-visit tourist attraction in Phuket, the charming Sino-Portuguese buildings provide a picturesque backdrop as you savor local delicacies at quaint cafes and admire the intricate details of the architecture and street art. Every corner of this town tells a story waiting to be discovered.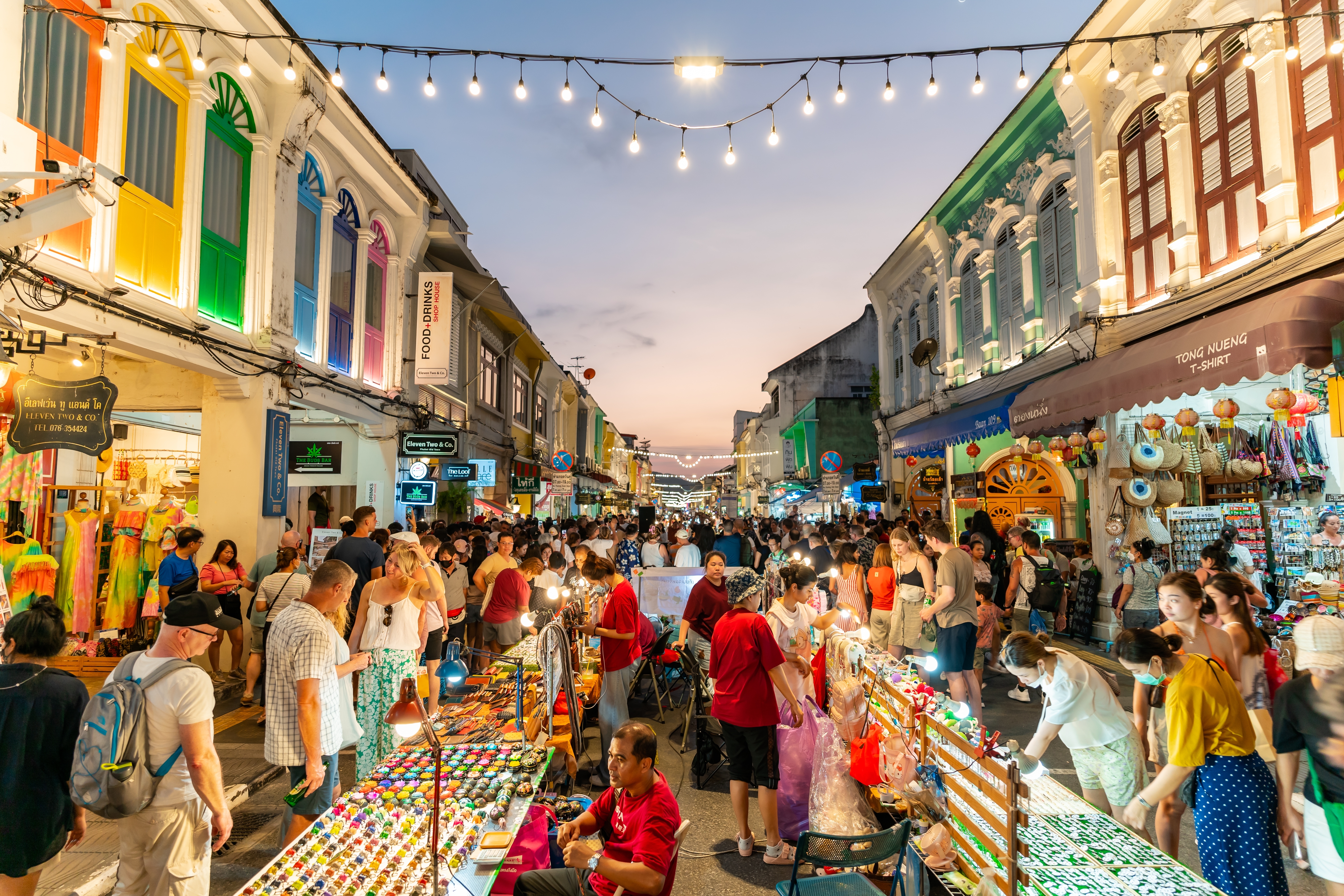 4. Big Buddha Phuket & Chalong Temple: A Spiritual Sojourn
Find tranquility and awe as you visit the iconic Big Buddha Phuket and the serene Chalong Temple. Marvel at the grandeur of the Big Buddha statue and soak in panoramic vistas from its hilltop location. The Chalong Temple offers a glimpse into the local spiritual practices, inviting you to reflect and find inner peace.
5. Chalong Bay Distillery: Raise a Glass to Craftsmanship
For those with a penchant for spirits, Chalong Bay Distillery is a must-visit place in Phuket. Discover the art of crafting exquisite rum, learn about the distillation process, and enjoy tastings that will tantalize your palate. This is an opportunity to experience the fusion of tradition and innovation in a tropical setting.
6. Excursions and Tours: Discover Hidden Gems
One of the reasons Phuket is a top tourist spot is its accessibility to nearby islands. Explore beyond the shores with exciting excursions. Embark on a Phi Phi Island tour to witness breathtaking landscapes and snorkel amidst vibrant marine life. Traverse the stunning Phang Nga Bay on a tour that takes you through limestone karsts and emerald waters. Do not miss out on the iconic James Bond Island, especially if you are visiting Phuket for the first time. These tours are gateways that unveil Phuket's natural wonders.
7. Green Elephant Sanctuary Park: Where Hearts Connect with Nature
For an unforgettable and heartwarming experience, the Green Elephant Sanctuary Park is a top Phuket attraction. Here, you can interact with these majestic creatures ethically and responsibly. Feed, bathe, and learn about these gentle giants while fostering a deep connection with nature and wildlife.
8. Night Markets: A Kaleidoscope of Flavors and Crafts
As the sun sets, Phuket's night markets come alive in a riot of colors, aromas, and laughter. A few of our recommended places to visit include Kata Night Market, Karon Temple Market, Phuket Indy Market, and Karon Plaza. Sample delectable street food, shop for unique souvenirs, and immerse yourself in the local culture as you stroll through these vibrant markets.
9. Breathtaking Viewpoints: Where Beauty Knows No Bounds
Some of the best places to go in Phuket are its stunning panoramic viewpoints. Karon View Point, Monkey Hill, and Promthep Cape, among others, offer stunning vistas that will leave you spellbound. As the golden sun paints the sky with hues of orange and pink, these viewpoints provide the perfect vantage points to witness nature's masterpiece.
10. Beach Clubs: Where Bliss Meets Extravaganza
Whether you're seeking a relaxed day by the sea or a lively beach party, Phuket's beach clubs have it all. Among many, Café Del Mar, Pine Beach Club, and Catch Beach Club offer luxurious lounging, delectable cuisine, and an energetic atmosphere that transforms as the sun sets over the horizon.
Embark On An Unforgettable Escape
With its diverse offerings, Phuket promises a vacation that caters to every traveler's desires. From heartwarming encounters with elephants to culinary escapades in bustling markets, from spiritual awakenings at ancient temples to exhilarating water park fun – this island paradise is ready to unveil its treasures and provide memories that will linger long after you've left its shores. So pack your bags, embrace the spirit of adventure, and let Phuket weave its magic around you. Your tropical dream awaits!
Delve into the heart of Phuket's allure with our comprehensive guide to its top tourist attractions. From vibrant markets to fun water parks, experience it all.