Discover Culinary Delights at the Phuket Vegetarian Festival
Phuket is a treasure trove of delights, beckoning visitors with its range of attractions and cultural events, like the Phuket Vegetarian Festival, also known as the Nine Emperor Gods Festival. The Phuket Vegetarian Festival is an annual event that pays homage to the Chinese gods. For nine days, devotees abstain from meat and opt for a vegetarian diet to display piety and discipline. The heart of this festivity lies in Old Phuket Town, where the streets come alive with colorful processions, acrobatic lion dances, and, most crucially, delicious vegetarian fare.
A Feast for the Senses in Old Phuket Town
During the Phuket Vegetarian Festival, Old Phuket Town takes on a festive atmosphere with vibrant flashes of red and gold, lanterns swaying overhead, and incense wafting through the air. The festival is a reflection of Phuket's rich tapestry of Thai-Chinese heritage. Dragon parades snake through the streets, punctuated by the beats of drums and cymbals.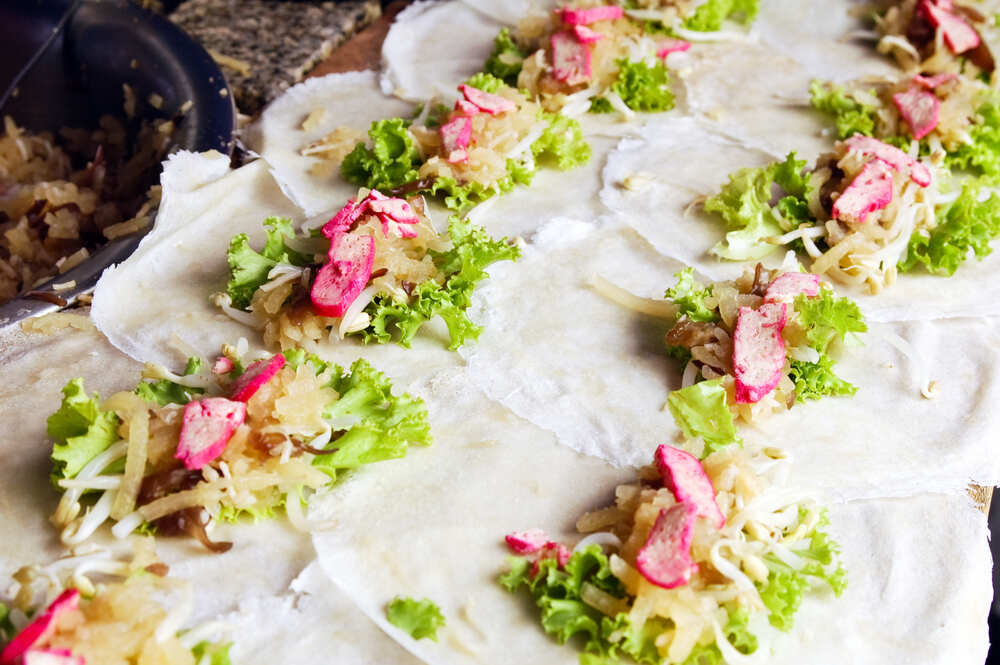 As the Phuket Vegetarian Festival unfolds, the gastronomic landscape of the island sees a delightful transformation. The streets are filled with food stands carrying various vegetarian dishes. Meaty dishes temporarily step back, and vegetarian dishes take centerstage, tantalizing the taste buds of locals and visitors alike. Here are some must-try vegetarian dishes to savor during the festival:
Jae Curry
This dish is a rich, coconut-based curry brimming with tofu, taro, and an assortment of vegetables. It's mildly spiced, making it a favorite amongst those who prefer a subtle heat.
Mee Hokkien Jae
This noodle dish has a mix of yellow and rice noodles, stir-fried with mushrooms, soy sauce, and various veggies, then topped with crispy garlic and served with a tangy chili sauce.
Jae Spring Rolls
These are crispy golden rolls stuffed with clear noodles, mushrooms, and finely chopped vegetables. They're usually served with sweet plum or tamarind sauce.
Tau Hu Tod
Fried tofu that's crispy on the outside and soft on the inside, usually paired with a sweet and spicy chili sauce.
Kanom Jeen
Fermented rice noodles served cold, often paired with a variety of sauces like spicy tomato or peanut-based ones.
Lod Chong
A refreshing dessert made with chewy pandan-flavored rice flour strings doused in cold coconut milk, often served with jackfruit or melon. These dishes, along with many others, are often marked with yellow flags, signifying that they're purely vegetarian and adhere to the festival's guidelines. It's an annual culinary treat, as these dishes, prepared with love and devotion, offer an experience like no other.
Embark on a Culinary Journey at Andamanda
While the festival offers a chance to delve into Thai-Chinese culinary traditions, you can discover even more Thai cuisine when you visit Andamanda Phuket Waterpark. Explore The Village and Floating Market, serving up an array of traditional Thai dishes. Whether it's the play on sweet, sour, and umami flavors delivered by phad Thai, the fragrant and creamy massaman chicken or the aromatic and savory allure of phad krapow, each dish offers a true taste of Thailand. Aside from Thai fare, you'll find Western and Japanese cuisine on offer as well. And if that wasn't enough, the Tropical Beach awaits with its offering of Thai-style grilled seafood. Imagine sinking your teeth into perfectly grilled prawns or fish, all while taking in the views of Andamanda's water attractions. Conclude your Thai culinary adventure with refreshing coconut ice cream, seasonal fresh fruits, and traditional Thai desserts available at Coral World.
Water Adventure at Andamanda Phuket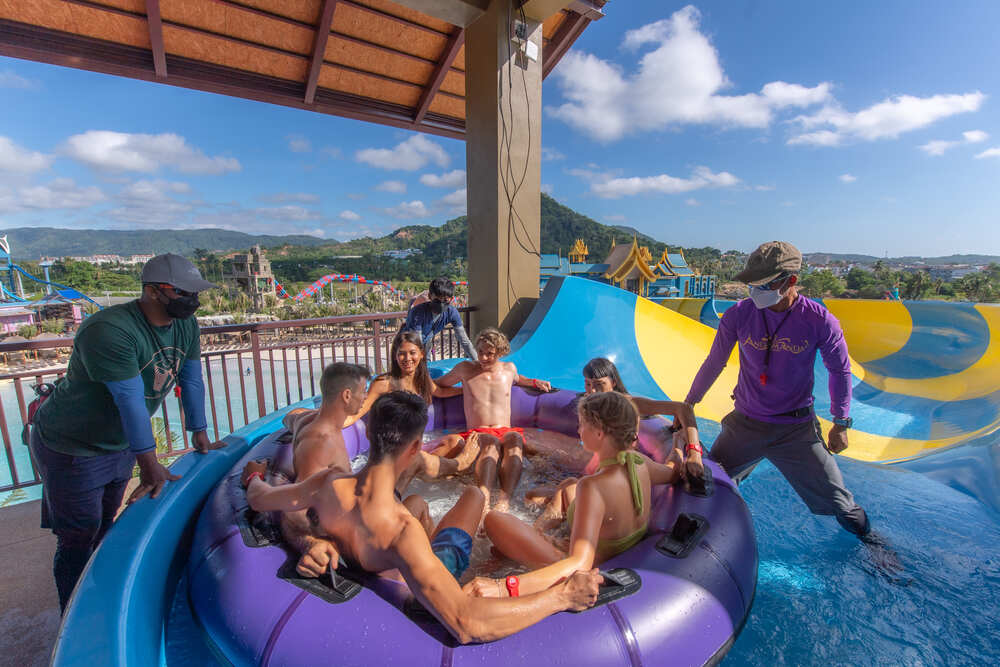 Andamanda Phuket is all about aquatic fun, catering to visitors of all ages. From the adrenaline-pumping Eagle Flyer and the speedy Racing Nagas, to the serene ambience of Rolling Ripples and child-friendly water play at Atoll Adventures, there's something for everyone. Whether you're seeking heart-racing thrills or just a laid-back day by the water, Andamanda ensures endless fun.
While the Phuket Vegetarian Festival offers an immersion into the island's cultural and culinary fabric, there's much more to explore and experience. So, the next time you find yourself in Phuket, remember this: come for the festival, stay for the fun at Andamanda!
Ready to combine culture with adventure? Discover more exciting attractions in Phuket here or visit Andamanda Phuket for a fun-filled day of exciting water play and delicious Thai food!
Phuket is a treasure trove of delights, beckoning visitors with its range of attractions and cultural events, like the Phuket Vegetarian Festival, also known as the Nine Emperor Gods Festival.